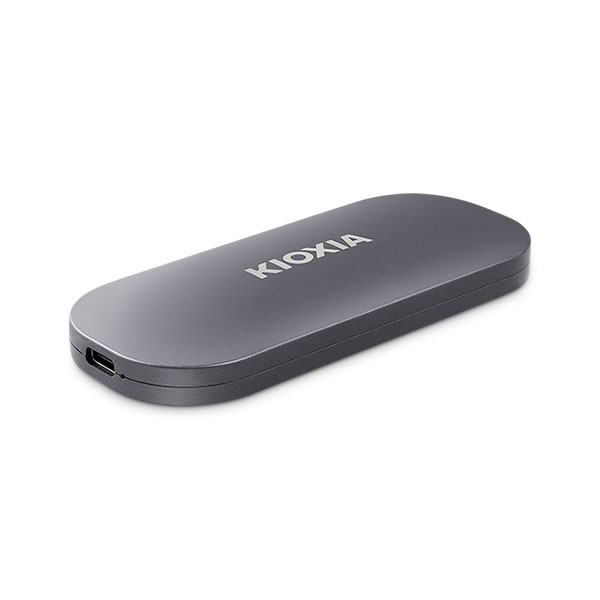 Kioxia Exceria Plus Portable SSD
Sleek and Stylish
Your data can go where you go, in style. The KIOXIA EXCERIA PLUS Portable SSD series puts emphasis on both design and portability with its smooth, rounded aluminum housing. Easy-to-grip and pocket-sized(4), this elegant portable SSD series offers compact, handy storage for users who seek out timeless design in their mobile lifestyle.
Universal Features
Compatible out-of-the-box with Windows OS, macOS, iPadOS, Android™ OS, PS4, PS4 Pro, PS5 and Xbox Series X/S(2), the EXCERIA PLUS Portable SSD features a slim USB Type-C® connector with a USB 3.2 Gen2 interface enabling you to quickly transfer 4K videos and high-res photos. Each EXCERIA PLUS Portable SSD includes both a Type-C to A and Type-C to C cable to ensure your drive works on both current and legacy systems.
Carry Without Worry
Compatible with MIL-STD drop test(3) , the EXCERIA PLUS Portable SSD features a shockproof housing and has no moving parts making it highly durable. Its aluminum housing also enables effective heat dissipation(4) during heavy workloads. For peace of mind, you can password protect and safeguard up to 2TB of data, even if you lose your EXCERIA PLUS Portable SSD.
Cutting-Edge 3D Flash Memory
Each EXCERIA SSD is built with BiCS FLASH™ and a vertically stacked cell structure, delivering a cutting edge storage experience.